OUR GANG - KELLOGG'S PEP!!
During the 1920's Kellogg's used Our Gang to promote their cereals. Here are some pictures used for that promotion. I obtained these pictures from Kellogg's here in Michigan. These are scanned from laser copies, so their scanned quality does not appear as great as the originals really are! Click on any of the images to see a larger version of the photo.
Sorry, but NONE of these photos are for sale!
---
The following caption for the picture comes from a book about W.K. Kellogg. It is humorous to me because it continues to show how little some people know about the members of the silent Our Gang comedies. "Mary Kornman" is actually Mildred Kornman. "Freckles" is J. R. Smith.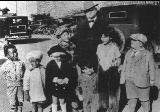 In the winters, California became Mr. Kellogg's adopted state and during twenty-five seasons there he gained considerable acquaintance with the movie colony. This 1927 photograph shows Mr. Kellogg with Hal Roach's "Our Gang" whose currently reissued films are again finding much vogue. In the group are Farina, at the far left, the little blonde is Mary Kornman, "Freckles" is behind Mary, and Joe is at the far right.

In a letter dated March 17, 1927, to Mrs. Hanna Kellogg he related, "Tell John that I had my photograph taken yesterday with a half dozen different movie people, including some of the owners. I also had my picture taken with Hal Roach's 'Our Gang.' I think they are going to send me some prints and I will bring them with me."
---


Jackie Condon, J.R. Smith, Joe Cobb, Johnny Downs, and Farina help pitch PEP!
---

This is a MUST HAVE book for any Our Gang Fan!
Click on the book to read reviews, and to order!
If you are a fan, PLEASE BUY THIS BOOK!
I know you'll love it!
---
Write to: Patrick@Picking.com
This page has been viewed
times