| | |
| --- | --- |
| Volume 6 Number 4 | Summer/Fall 2003 |
LOST OR JUST HIDING?
The tale of two "lost" Vitaphone features continues to confound, tantalize and aggravate film buffs after seven decades. Tidbits are found. Rumors abound. But still no complete films have been found. The two films are GOLD DIGGERS OF BROADWAY ('29) and CONVENTION CITY" ('33). As of this writing, no complete print of either film has been located. The WB vaults have been scoured as have many others worldwide. In the case of GOLD DIGGERS, two Technicolor reels have been located and restored. All discs, including that for the trailer and audience entrance music exist. But picture for only reels five and six have so far turned up. The disappearance of CONVENTION CITY at this time seems complete. No print at all, not even for the trailer. The reasons for this film's demise has taken on almost legendary proportions. Let's examine each and hope that this added publicity might turn up something.

Scene from the still-lost CONVENTION CITY ('33), with Adolph Menjou, Patricia Ellis, and Dick Powell.
GOLD DIGGERS OF BROADWAY was one of the top grossing films of 1929. Shot entirely in two strip Technicolor, it had a big budget, hit tunes ("Tip Toe Through The Tulips","Painting The Clouds With Sunshine") a top cast (Winnie Lightner, Nick Lucas, Lilyan Tashman, Ann Pennington) and spawned a number of sequels at Warners in the thirties. The fact that it was in Technicolor may have increased its chances for disappearance. Most of the Technicolor films, including an entire series of 1929-30 Vitaphone musical shorts, do not survive, or exist only in black and white. Judy Garland, as Frances Gumm, appeared with her sisters in three west coast-produced one reel Vitaphone Technicolor shorts. Two have no known film at all, and the third, BUBBLES ('30) survives only in a black and white print. Much of the color output was returned to the Technicolor Corporation in Hollywood, to the building now ironically occupied by the UCLA Film & Television Archive. Much of the stored footage was discarded in the 1950's as Technicolor itself moved away from the superior three-strip system in favor of the monopak approach of Eastman Color. We highly recommend you buy the new ROBIN HOOD DVD set as it includes the documentary GLORIOUS TECHNICOLOR as well as the shimmering restored color print of the Errol Flynn classic. Getting back to GOLD DIGGERS, after its initial release in 1929-30, it appears to have been retired and not rereleased. It was never included in any television packages sold by WB in the 1950's. This was common for the many disc-only features, with the Jolson's being the main exception. Sometime between 1930 and the 1950's the nitrate disappeared, possibly discarded due to deterioration. No picture element surfaced until the 1980's when one reel in original Technicolor was found in England. In the early 1990's, a second reel was found in Australia. Fortunately, the two rediscovered reels are five and six, so nearly twenty minutes of the film can be continuously seen and heard. Two years ago, Project supporter Jeff Cohen surprised us by forwarding email attachments of two frame blowups of previously unknown GOLD DIGGERS footage that existed in Scotland. These were full width, multiple frame blow ups from scenes not known to exist, and they were in color. We hoped this meant that more, and possibly all, of the missing footage to GOLD DIGGERS existed. Unfortunately it appears the were simply clips displayed in a now-defunct Scottish film museum, with no known leads on if the rest of the reels exist. The trail, at least at the moment, seems cold.
CONVENTION CITY's tale is even more frustrating. This was a major feature with a cast boasting many of Warner's top stars: Dick Powell, Adolph Menjou, Frank McHugh, Hugh Herbert, Joan Blondell, Guy Kibbee, Mary Astor and Ruth Donnelly. The tale goes that it was so risqué that it single handedly brought the Legion Of Decency's wrath on Hollywood and that Jack Warner destroyed all prints as penance. This story is unlikely, and much of this film's saga is well documented in Mark Viera's book SIN IN SOFT FOCUS. The reality is that there were many much more notorious features released at the time (BABY FACE, the Mae West features, dozens more), and all of them survive. We visited the Margaret Herrick Library with Sam Gill years ago and he showed us the biggest censor file they had for Pre-Code films. It was for Wheeler & Woolsey's ribald SO THIS IS AFRICA (Columbia, '33). The film was edited down from 90 to just over 60 minutes before release. That every known print of CONVENTION CITY worldwide should have been destroyed seems unlikely. Yet no prints have yet surfaced. It does not appear to have been part of Warner's television package in the 1950's, although rumors persist that it was shown on British television in the sixties. Dick May checked the Warner vaults and even looked for the trailer. Nothing. In 1998, John Leifert was viewing some stock footage his employer, Getty Images, had purchased. One reel contained mute CONVENTION CITY footage of Atlantic City establishing shots, convention train arrivals, boardwalk scenes an the apparent background for the opening titles. No sound or stars, though. So legendary had the films disappearance become that New York's FILM FORUM presented a staged reading of the screenplay. Is this film missing or just hiding? In 1999, we were contacted about the strong possibility that a subtitled nitrate print existed in France. The alleged owner had concerns over shipping or even having nitrate due to storage regulations. Despite repeated attempts, we have still been unable to verify that this individual actually has a print.
Readers will soon be able to see the two restored reels of GOLD DIGGERS OF BROADWAY when it is included in the planned GOLD DIGGERS OF 1933 DVD (no release date yet, but you can buy the soundtrack here). For CONVENTION CITY, there will be no shortage of restoration funders if a print ever turns up!
Scene from the still-lost CONVENTION CITY ('33), with Adolph Menjou, Patricia Ellis and Dick Powell.
---
BFI PRESENTS DeFOREST PHONOFILM PROGRAM
Many thanks To Project supporter Tony Fletcher for sending along this rundown on the British Film Institute's presentation of British DeForest Phonofilms. These shorts were produced in England from 1926-29 an featured music hall and stage personalities. BFI has several dozen Phonofilms while The Library of Congress has about 40 American Phonofilms donated by Maurice Zouary in 1969. Most of these sound-on-film shorts need restoration, including speed correction. Here is an excerpt from the BFI program.....
---
ONE SHEETS!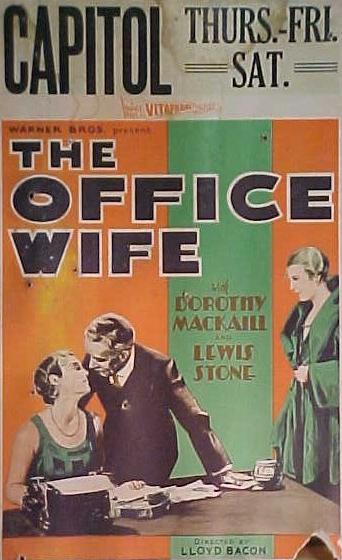 ---
MASSIVE SHORTS BOOK DUE OUT IN 2004
McFarland Press, which last year brought you Roy Liebman's comprehensive VITAPHONE FILMS, will release Ed Bradley's book on sound shorts made from 1928-1931. The book has evolved from an overview approach to a massive listing of thousands of sound shorts from all of the major, and many minor, studios. We have been assisting Ed in the review of his manuscript, and can attest that this will be the most exhaustive book yet on early sounds shorts. Each studio gets its own history, and shorts are broken down by genre, release date, director and cast (if known). There will be many pictures as well, most supplied by Project aficionados Cole Johnson, Rich Finegan, Scott Margolin and the Project itself.
In reviewing Ed's draft, it immediately became evident that there will be MANY previously unknown films listed whose rediscovery will now be sought. In the Fox Movietone section for example, there is an entry for a previously unknown W.C. Fields sound appearance in which he receives(!) a golf lesson. Pathe, MGM, Roach, Paramount, Universal,Vitaphone, UA, Educational, and Radio each get major attention.
The book's final official title and release date are yet to be established as of press time, but we'll keep you posted.
---
VITA BOOK YIELDS UNKNOWN PERFORMER CREDITS
Roy Liebman's book VITAPHONE FILMS (McFarland & Company, ISBN 0-7864- 1279-8) is a must-have for every Vitaphoniac, as was detailed in our last issue. If you haven't yet purchased it yet, go to amazon.com now! At 455 pages, over 120 photos and listing for every known short and feature made under the Vitaphone banner, this thoroughly indexed reference will tantalize you with the still unseen shorts awaiting rediscovery. The Project supplied most of the pictures and much of the raw data for the text, which Roy supplemented from Film Daily, Motion Picture Herald, and particularly the original WB files at USC.
Being so close to things Vitaphone, we were pleasantly surprised at the many new performer credits and unknown films we have found in the book. Some examples:
Stooges expert Rich Finegan found two previously unknown Shemp Howard shorts.
Film appearances by Lyda Roberti and singer Mildred Bailey ("Rockin' Chair") in 1928.
A red-tinted 1930 short set in Hell and starring Sidney Toler and Joan Blondell. It's THE DEVIL'S PARADE (#992).
A possible out takes short (release #1060) titled THE SNOOZE REEL
Another all-girl jazz short, # 997, BABE EGAN AND HER HOLLYWOOD REDHEADS
#3863 - A short possibly taken out of SHOW OF SHOWS '29) titled BEATRICE LILLIE AND HER BOYFRIENDS
Specific Trailer listings which may exist for otherwise lost films like THE GORILLA ('30), HONKY TONK ('29), and IS EVERYBODY HAPPY? ('29).
A band short by the wonderfully named HARRY ROSENTHAL AND HIS BATH AND TENNIS CLUB ORCHESTRA (#836, '29)
Previously unknown screen credits for Paul Whiteman singer Beth Challis (#884), Margaret Dumont (#1455-6 and 1708-9), Theodore Hardeen, Houdini's brother (#1958), Gil Lamb (#781), Lucille Lortel (#1046), Polly Moran (#2297), Charlie Ruggles (#2568-9), W.C. Fields sidekick Tammany Young (#1370-1 and 1372-3)
---
ADVERTISEMENTS!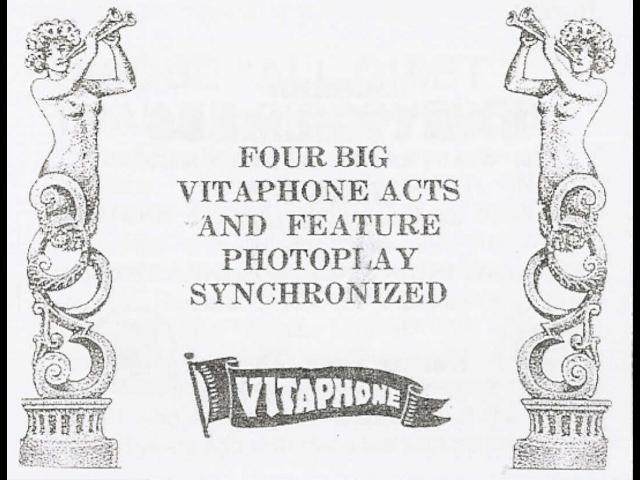 ---
UNIQUE "ALL QUIET" TRAILER DISCOVERED
Film buff Ray Faiola has made a major discovery of an early trailer for ALL QUIET ON THE WESTERN FRONT (Universal, '30) in which Zasu Pitts is featured. She was cut from the finished film and replaced, so the existence of this version is highly unusual. Ray secured a 16mm copy made from a now-lost 35mm nitrate original. He has even constructed a professional soundtrack for it. Ray is now working with Library of Congress's James Cozart who helmed the restoration of the feature several years ago with discs we tracked down.
---
1940 STORY - "PHONOVISION SET TO START PRODUCTION"


(click photo to enlarge)
---
WARNER DVD'S TO INCLUDE SHORTS
George Feltenstein, Senior VP of Warner Home Video, has told us that it will be a rarity that a WB DVD vintage release will NOT include some shorts as a bonus. This has already been the case with releases of 42nd STREET, YANKEE DOODLE DANDY, ROBIN HOOD, THE TREASURE OF SIERRA MADRE, among many opportunities to include earlier shorts for releases of PUBLIC ENEMY, LITTLE CAESAR and GOLD DIGGERS OF 1933 are now being pursued. There are still no plans for any Vitaphone shorts-only DVD's as has been done by KINO with Paramount shorts ("Hollywood Rhythm"), and this is the number one request the Project receives.
---
STILLS!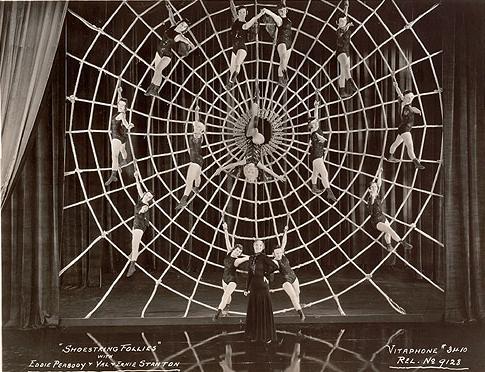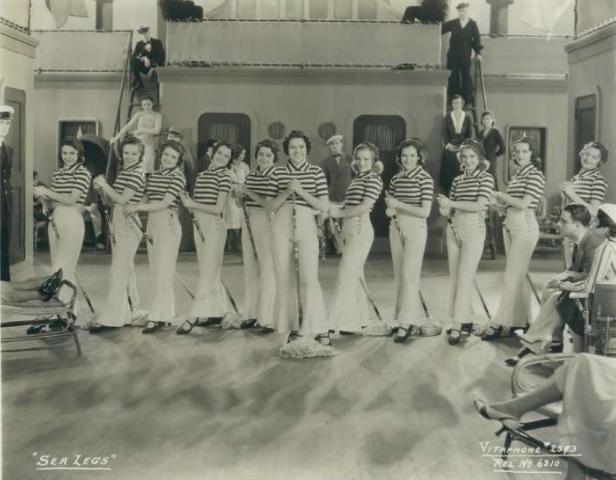 ---
THANK-YOU GIFTS FOR DONATIONS
We appreciate all of your contributions as they help us to continue to network and locate discs, film and donors. The majority of our expenses are for this newsletter, which costs about $800 per issue to print and distribute. Donations of all amounts are greatly appreciated. While they are not tax deductible, every penny helps!

For contributions of $50 or more we offer the following privately recorded CD's.:

$50 - Pick any one
$100 - Pick any three
$150 - Pick any six
$200 or more - Pick all
Baby Rose Marie, The Child Wonder 1929-38. Includes her three Vitaphone tracks, all her 78's of this period, plus other film tracks and a full 15 minute '38 radio show.
Miss Frances Williams - The great risqué songstress, include all but one of her 78's, her '27 Vitaphone short, soundtracks to her 1930's features, and radio shows.
MY MAN - Counts as TWO CD's. All 11 Vitaphone discs that exist, plus trailer, related pop 78's of the featured tunes.
Vitaphone Shorts and features soundtracks 1926-31. Vaudeville, bands, trailers, music & effects. Over 40 tracks. Counts as 4 CD's.
Vitaphone shorts music tracks, 1932-38. Counts as 2 CD's.
Donate to The Vitaphone Project securely with any major credit card through PayPal!
Checks (not deductible) should be made payable to Ron Hutchinson (NOT The Project) and sent to 5 Meade Court, Piscataway, NJ 08854.
---
PEOPLE & NEWS
The Capitol Theatre in Rome, NY presented a 75th Anniversary program on December 10, 2003 and included several Vitaphone shorts on the program (HARRY WAYMAN'S DEBUTANTES ('28) and THE HAPPINESS BOYS ('26). A presentation of LILAC TIME ('27) with its original Vitaphone track (actually Firnaphone for First National's version of Vitaphone) was also included. The 1800 seat theatre has been restored and regular programs of of vintage early talkies is planned....
Documentarian Betsy Baytos has secured Shirley McLaine to narrate her production on eccentric dancing. The documentary will include many Vitaphone clips...
Bruce Goldstein, Repetory Program Director for NY's FILM FORUM plans another Vitaphone shorts program this spring...
Milers Krueger put together KINO's package and liner notes for the DVD release of Rouben Mamoulian's 1929 Paramount musical APPLAUSE with Helen Morgan...
David Stenn, author of the Clara Bow biography Runnin' Wild, is working on the restoration of Jeanne Eagle's 1929 Paramount feature THE LETTER. Several discs to complete the soundtrack are still needed...
KINO has also just released on DVD LOVE ME TONIGHT (Par, '32)
---
DISC-OVERIES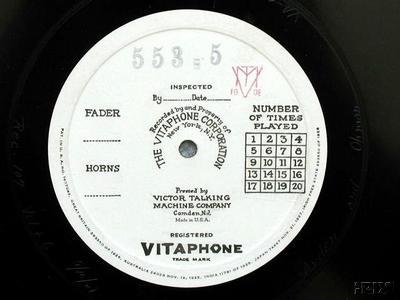 Only a few new discs discovered this time, although we hope to report on a big mid-west cache next time. Uncovered since our last issue:
25 Vitaphone discs from a single collection that includes all discs for Eddie Cantor's WHOOPEE! (UA,1930)
the disc for the exit music for THE DESERT SONG (WB. '29)
discs for the feature CAUGHT IN A FOG (WB. '28)
---
IF YOU WOULD LIKE TO BE NOTIFIED WHEN NEW ISSUES ARE ADDED TO THIS WEB SITE:
---
---

This web site is maintained by: patrick@picking.com
Copyright 2001-2003