HOME PAGE
THE VITAPHONE PROJECT
In 1991 a group of film buffs and record collectors met to discuss the possibility of seeking out the shellac soundtrack discs that accompanied early 1926-1930 Vitaphone (and other) talkie shorts and features. The Vitaphone Project was formed to accomplish this goal as well as to partner with the studios (particularly Turner/WB), film archives (UCLA, LOC, BFI), and private collectors worldwide in order to get these films restored and seen again. Of particular interest were the nearly 2,000 talkie short subjects, featuring vaudevillians, bands, opera singers, and comedians made by Vitaphone from 1926-1929. In many cases 35mm picture elements exist without an accompanying soundtrack.
Since its inception The Vitaphone Project has located over 3,000 12- and 16-inch shellac soundtrack discs in private hands, has assisted on the restoration of over 35 shorts and 12 features, and has developed nearly $300,000 in private funding for restorations. There are still over 80 shorts for which picture, but no sound, exists.
We need your help to continue to locate soundtrack discs, mute film elements, underwriters, and relatives of people who worked on these films. Loaners of discs get their own copy of the completed restoration, and underwriters of restorations (currently a tax deductible $4,500 through UCLA) also get a copy as well as on-screen credit.
---
Read all about the progress the Vitaphone Project has made over the past 20 years in the Vitaphone Newsletters!
| | |
| --- | --- |
| Vitaphone News - Volume 1, #1 #3 #4 | Vitaphone Sheet Music! |
| Vitaphone News - Volume 2, #1 #2 | USA TODAY Article |
| Vitaphone News - Volume 3, #1 #2 #3 #4 | Vitaphone Pictures! |
| Vitaphone News - Volume 4, #1 #2 #3 #4 | Complete list of Restorable Vitaphone Shorts!! |
| Vitaphone News - Volume 5, #1 #2 #3 #4 | Frequently Asked Questions!! - VERY INTERESTING! |
| Vitaphone News - Volume 6, #1 #2 #3 #4 | Visit with Bob Gitt at UCLA |
| Vitaphone News - Volume 7, #1 #2 #3 #4 | Vitaphone DataBase |
| Vitaphone News - Volume 8, #1 #2 #3 #4 | Links to other great sites |
| Vitaphone News - Volume 9, #1 #2 #3 #4 | Notes for Vitaphone Varieties Volume 1! |
| Vitaphone News - Volume 10, #1 #2 #3 #4 | Notes for Vitaphone Varieties Volume 2! |
| Vitaphone News - Volume 11, #1 | |
| Vitaphone News - Volume 12, #1 #2 #3 #4 | |
| Vitaphone News - Volume 13, #1 #2 #3 #4 | |
| Vitaphone News - Volume 14, #1 #2 #3 #4 | |
---
NEW VITAPHONE SOUNDTRACK CD GIFTS FOR DONATIONS OVER $50!
ALL DONATIONS ARE WELCOME!
Your generous donations help to keep our Project going. Escalating printing and mailing costs make your support even more important than ever. While not tax-deductible, your donation allows us to continue spreading the word and seeking out disks and film elements for future restorations. Large donations for actual restorations go directly to UCLA Film and Television Archive (where support is tax deductible).
NEW!     NEW!    NEW!    NEW!    NEW!   NEW!
We've just added a new thank-you gift for a donation of $50. It's a set of twelve 3x5 note cards and envelopes, each with a terrific vintage Vitaphone short still. Twelve different cards include pictures of bands, vaudevillians, the Vitaphone camera booth guys, and more. A unique way to send your friends a note the old fashioned way. Just specify you'd like the note cards when contributing. If you've sent in a donation lately, thanks! If you are receiving Vitaphone News and have not made contribution lately --- or ever -- please consider doing so now. In addition to thank-you audio CDs listed below, we are adding a few new items:
Selected from the 70+ Vitaphone disks acquired earlier last year are two new CDs:
2011 DISK-OVERIES VOL. 1 -includes soundtracks for 1929 shorts by Molly Picon and Dave Apollon, Ruth Etting with Arden & Ohman, Phil Baker and more.
2011 DISK-OVERIES VOL. 2 includes tracks from REDSKIN, a Vitaphone 1929 theatre holiday promo, Charles King in the lost 1929 MGM Colortone CLIMBING THE GOLDEN STAIRS and Al Trahan, plus more.
The above 2 CDs are individually for a $50 contribution, both for $75.
Also new...
For a $50 donation receive our DVD of twenty band, singing and vaudeville excerpts from 1930-39 British Pathetone shorts. Includes the bands of Billy Cotton, Harry Roy and Jack Hylton (recording at HMV in 1932!), plus Sophie Tucker, two clips with Al Bowlly, and many fun music hall and vaude acts. Just request our PATHETONE DVD when contributing!
For donations of $50, you can choose from one of the listed CDs, or you can receive a great Shaw and Lee caricature T-shirt.
And the following audio CDs are still available as thank-you gifts. These are unique, non-professional (but highly listenable) recordings of rare early talkie material. No fancy notes or packaging, but we are sure you'll enjoy them. Just let us know your choice (number of CDs is in parentheses)
$50 - Pick any 1 CD
$75 - Choose any 2 CDs
$100 - Pick any 3 CDs
$150 - Pick any 6 CDs
$200 or more - Pick any 8 CDs
KRAZY KAT CARTOON '29-'30 SOUNDTRACK (total of 10 tracks) (1)
'29-'30 COLUMBIA VICTOR GEMS SOUNDTRACKS (Vol 1 & 2) (1 CD each)
"TALES FROM THE ATTIC" - VITAPHONE ON WDVR (11/09) with Vitaphone Project's Ron Hutchinson. Nearly 3 hours (2)
VICTOR PICT-UR-MUSIC DISCS Vol 1 (1)
VICTOR PICT-UR-MUSIC DISCS Vol. 2 (1)
BABY ROSE MARIE, THE CHILD WONDER ('29) - all known 1929-38 78's by this popular child star, plus tracks from her 3 Vitaphone shorts, features and even her 1938 radio show. (1)
WHY BE GOOD? Soundtrack - the complete jazzy Vitaphone discs for this soon to be restored 1929 silent starring Colleen Moore. Believed to feature Jimmy Dorsey, Phil Napoleon and Eddie Lang among others. (1)
MY MAN ('28) - all available discs from the lost Fanny Brice feature, plus trailer disc and contemporary 78's of film tunes. (2)
GOLD DIGGERS OF BROADWAY ('29) Vitaphone discs - 99% of the sound from this still substantially lost early Vitaphone feature. (1)
VITAPHONE SOUNDTRACKS - Vol 1-4 Selections from soundtrack discs from vaudeville, band and feature films. (4)
WHEELER & WOOLSEY TUNES (2 CD's) - includes virtually every one of the songs from their 1929-37 features. For real fans! (2)
Click on the button below to donate to The Vitaphone Project securely with any major credit card through PayPal!
If you wish to send a check (not tax deductible) please make it payable to RON HUTCHINSON (NOT The Vitaphone Project) and send it to:
Ron Hutchinson
5 Meade Court
Piscataway, NJ 08854
THANK YOU!!
---
ON SALE NOW!
Movies and books related to Vitaphone can be purchased through Amazon.com by clicking on the items here!
---
Share this website!



E-Mail this story to a friend
---
IF YOU WOULD LIKE TO BE NOTIFIED WHEN NEW ISSUES ARE ADDED TO THIS WEB SITE:

Add me to the Vitaphone Project E-Mail List!

Friend us on FaceBook: https://www.facebook.com/groups/113444792025031/
---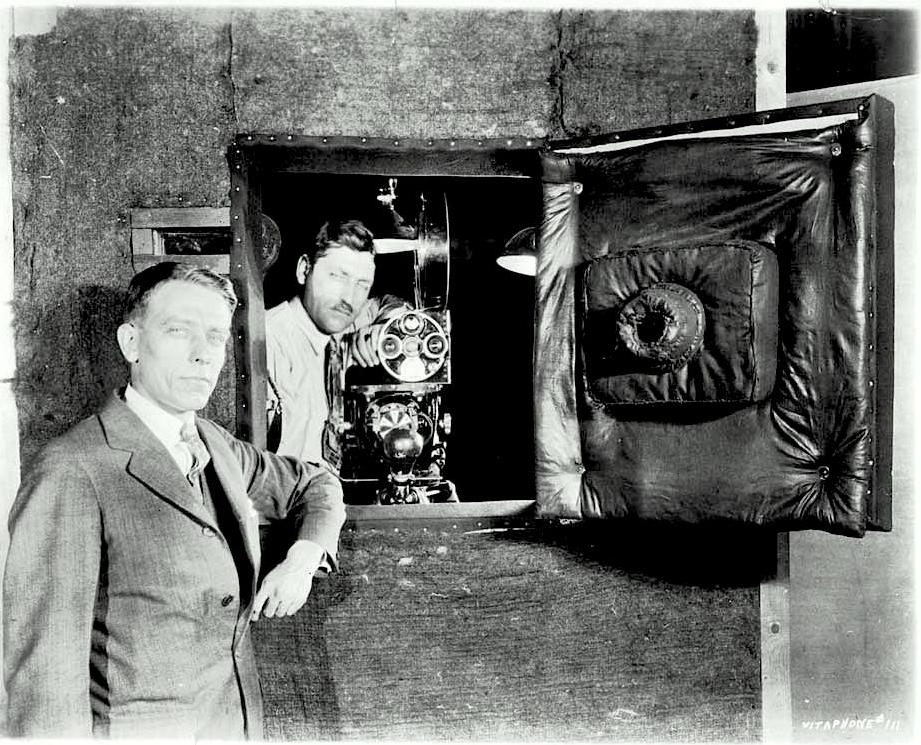 ---

This web site is maintained by Patrick Picking: patrick@picking.com
Copyright 1996-2018